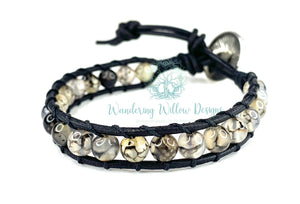 You pick if you want your Boho Wrap bracelet a single Bracelet or a double wrap bracelet. 


Made with real genuine Rutilated Quartz Gemstones in a ladder design, finished with a button clasp. 


Adjustable 6.25-8.25" 
MADE TO ORDER. PLEASE ALLOW 2-3 WEEKS FOR DELIVERY. 

Rutilated Quartz is an illuminator for the soul, promoting spiritual growth. It cleanses and energises the aura. Draws off negative energy and disease, letting go of the past. Rutilated Quartz gives protection against the ill thoughts of others.